The Golden Age of California: Women's City Fashions of the 1890's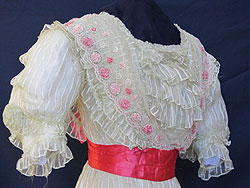 Jeanette Lyons Gallery
In the 1890s San Francisco was known as the "Golden City of the West." San Francisco's success and wealth during the last decade of the 19th Century meant garments became more than practical necessities. Fashion was alive and well in the City by the Bay and stylish clothing had become an important part in the life of San Francisco's society.
The 1890s fashion collection at the Santa Ynez Valley Historical Museum features 20 unique dresses that "proper" women wore when "visiting" or entertaining. The designs, fabrics and styles of dress are a fascinating look into how women wore their clothing and why certain clothing designs were necessary for the lifestyle of the day. In this exhibition the museum has on loan a stunning dress owned by Lillian Coit, a much loved benefactor of San Francisco firefighters. Coit Tower that sits on Telegraph Hill was built by San Francisco city fathers to honor Mrs. Coit and her civic work.
This fine exhibit is truly a dress history that reflects the wealth and sophistication of a golden time before World War I. A catalog describing each dress in detail accompanies the exhibition.
---