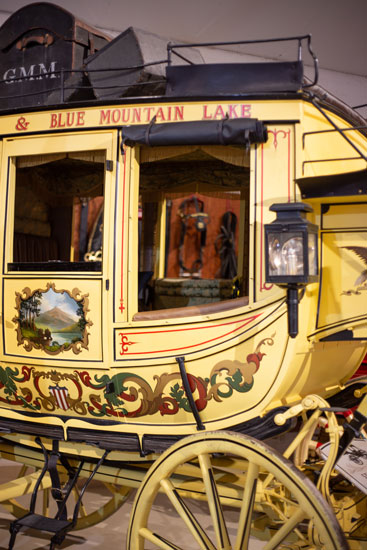 This remarkable building is home to one of the finest collections of authentic horse-drawn vehicles to be found in the entire West – the kinds of vehicles that opened the West to modern civilization in the days when "horse-power" meant just that.
The Parks-Janeway Carriage House was built on the museum property in 1978 by the generosity of two dynamic women – Mrs. Betty Parks and Mrs. Elizabeth Bixby Janeway. The Carriage House was dedicated to the memory of both women's husbands, Tom Parks and Ed Janeway.
When built over 30 years ago, Mrs. Parks and Mrs. Janeway had a vision that the Parks-Janeway Carriage House would not only be home to their own collection of carriages but also a place where other horse drawn vehicles, exquisite saddles and vintage horse gear could be preserved and displayed for the public's enjoyment.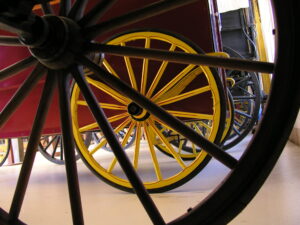 The carriages and memorabilia on display in the Carriage House hail from the famed John J. Mitchell collection; from Los Adobes de los Rancheros, and from the Janeway-Bixby and Parks family collections. Also, displayed are many vehicles that have been donated by private individuals.
Note – "Carriage" is a broad category of horse-drawn vehicles. There are various styles of carriages that are known by other names.
Huell Howser visited the Santa Ynez Valley in his California Gold Series, where he followed in the tracks of the stagecoach's traversing the Santa Ynez Mountains in the early history of Santa Barbara county. Click on the link below to watch the episode and to connect with many other travels with Huell Howser.
San Marcos Pass- Road Trip with Huell Howser (108) [25 Aug 2001]
Permission granted from Chapman University