The Santa Ynez Valley Historical Society was organized in 1961 by a group of dedicated Valley residents who recognized the need to preserve local history. Over the years, a single room has developed into a large complex surrounding a beautiful courtyard. The Historical Museum houses fascinating exhibits from the Chumash period through early 20th Century ranching days. The Parks-Janeway Carriage House has a superb collection of horse-drawn vehicles and related tack. The Ellen Gleason Memorial Library is devoted to local and California history.
SYV Historical Society is a non-profit organization. It depends entirely on the generosity of its members, benefactors, and visitors to maintain and improve its historical collections and to carry on its educational activities. Volunteers act as docents, arrange exhibits and lectures, organize fund-raisers and social activities, and maintain Society records.
Ellen Gleason Memorial Library
For reference use only, this outstanding library specializes in Santa Ynez Valley, Santa Barbara County, and California history. Almost 1,000 books are on the shelves, many of them one-of-a-kind. Maps, county legal papers, oral histories, old newspapers, and photographs are among the historical records to be discovered here.
Parks-Janeway Carriage House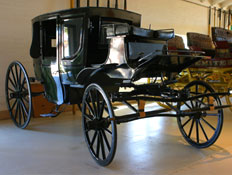 Located adjacent to the old Santa Ynez jail (1885 – 1913) and across the museum's early California style courtyard is the 7,500 square foot Parks-Janeway Carriage House, renown as one of the finest authentic carriage collections of its kind in the United States.
The Carriage House displays more than 36 carriages including a variety of wagons, carts, stagecoaches, and other historical modes of horse-drawn transportation. Also featured in the Carriage House is an outstanding display of saddlery including Visalia and Bohlin saddles, bridles, harnesses, and other tack.
Membership
Membership in the Santa Ynez Valley Historical Museum enables the Museum to bring educational and historically relevant exhibits for the community, ensuring the protection of our heritage for future generations to learn and grow from. The Board of Directors of the Santa Ynez Valley Historical Museum cordially invite you to become a member. Please call for information on this: 805-688-7889
Volunteers
The volunteers of the Santa Ynez Valley Historical Museum are the life of the Museum. There are volunteer opportunities as docents, greeters, helping with exhibits and events. Become a volunteer to preserve the history of the Santa Ynez Valley for future generations.